"The largest group of black sailors of both men and women in the country —cruising and racing."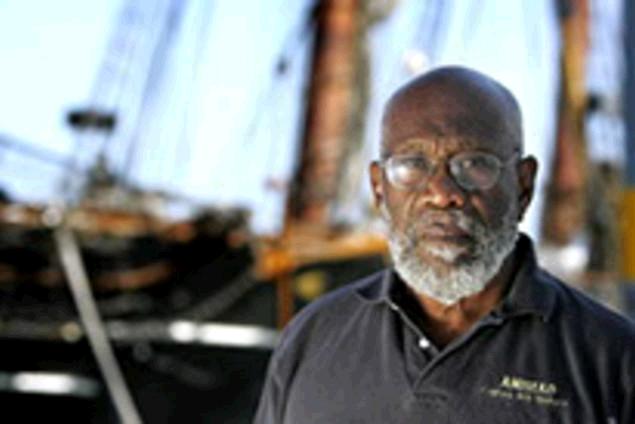 Late 80's — Front(Burt Wsters (H20); Bill Pinkney(Committment); Bob Nelson (DayDreamer);
John Buckner (Rhodes); Standing: Unknown; Leon Harris (27 Catalina);
Al Thompson (Rainbow Seeker); Yvonne Nelson (Von Voyage) Jack Lyle and Eunice Lyle (Nightwatch)
In the early 1990s, William Pinkney became the first African-American – and only the fourth person in the world – to travel around the globe on his own via boat. Pinkney, who was born in Chicago in 1935, received post-high school training as an x-ray technician. From 1956 to 1960, he served in the U.S. Navy as a hospital corpsman. Over the next three decades, Pinkney held variety of jobs that ranged from being a professional limbo dancer in Puerto Rico to working for the cosmetics company Revlon in New York. Of all of this jobs, however, it was his stint as a crewman on sailboats during his time in Puerto Rico that made the strongest impact....MORE
https://transportationhistory.org/2017/02/28/african-american-transportation-history-captain-bill-pinkney/
Jack Lyle, Bill Pinkney and Edmond Gueringer
at Chicago Sail Show
Talking to Kim Webb, Pinkney visits home
JPYC where is is an Honorary Member.
Bill Pinkney, Captain of the 1994 African American crew of both women and men to race the Chicago to Mackinaw Race.
All of whom are captains and skippers of their own boats
Visit MAC page..
Bill Pinkney's Incredible Voyage around the five capes, the first and only African American sailor to do so.